One of our long standing members, a lovely gentleman called Jack Jones, bequeathed Heritage a generous sum of money so that Heritage members could benefit in some way. 
We are proud to present to you our new accommodation; known as the Jack Jones Cabin. 
To see the construction and more information please click here.
Situated centrally at Heritage, the cabin boasts scenic views across our main field whilst enjoying a secluded location, surrounded by bushes and natural surroundings.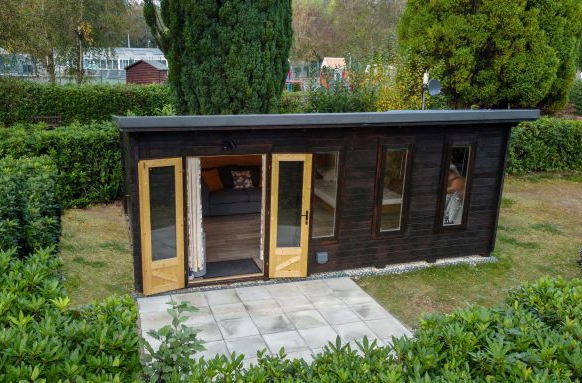 Our second rental chalet is an all wood construction chalet, which is fully equipped to ensure a comfortable stay. The Jack Jones Cabin is situated a short walk from all the main facilities.
The cabin can sleep up to two adults and two children as follows:
A king size bed with an award winning memory foam mattress.
A comfortable double sofa bed.
The fully equipped kitchen comes with everything you'll need from pots and pans to cutlery and cooking utensils. There is an electric hob, a microwave, hot water and plenty of storage including a wardrobe. The dimmable lighting also allows you to create the perfect mood for rest and relaxation. 
For hygiene reasons, you will need to bring your own bedding. You are also expected to clean the cabin, upon your departure, to the standard in which you found it. 
On the small patio and lawn there is a Weber charcoal BBQ and space to entertain friends of an evening.
Jack Jones Cabin bookings are for MEMBERS ONLY and must comprise of a minimum two night stay.

MEMBERS  – Please note that bookings can only be accepted for the season 1st April to 31st September PLUS any social event outside of this time.
Members per night for chalet rental (Maximum 4 adults with 2 children under 18 years free).
NOTE: Prices are for 2 adults + 2 children (under 18 years of age). Additional non-member adult guests sharing the unit (with a member) will be charged at £20 per person per night.  Please advise additional adult names using the contact form below.
April, May, September and October
Sunday – Thursday          £15.00 per night
Friday – Saturday             £18 per night
June, July and August
Sunday – Thursday          £36 per night
Friday – Saturday             £42 per night
PLEASE NOTE: That members bookings can only be received from 1st September.
PAYMENT:  Full payment is due at the time of booking and is non-refundable subject to our cancellation policy below.
CANCELLATIONS:  To receive a full refund, at least 4 weeks notice must be given cancelling any booking, or is at the discretion of the committee (less any pay-pal/bank charges which have been paid by Heritage).
PLEASE NOTE: That the Jack Jones Cabin must be vacated by 11.00am, and arrival is from 2.00pm onwards.
For general camping enquiries other than actual bookings, please complete the form below: