Our reviews page gives genuine views of visitors to Heritage and we hope this will help you to decide to stay with us.  If you would like to add a review after your visit, please send it to camping@heritageclub.org and we will post it below.  Alternatively, you can post a review for Heritage Club on Google or Trip Advisor.. W – Hampshire
I would like to say that staying in 'Daisy', for the second time, was a most relaxing time again and meeting other campers that are so easy going and welcoming. The member volunteers make you so welcome. I would like to thank you all at Heritage and will be booking again soon. C&A – Worcestershire
We would like to thank you all for the lovely holiday break we had with you recently. We had such an enjoyable and memorable time – Daisy was all we hoped for and more! We found the club members to be very helpful and friendly and we would particularly like to thank our host for meeting us and showing us the grounds and all the facilities which we thought were amazing. As naturists of 35 years camping, caravanning and chaleting we can say without hesitation that your fine club is right up with the very best. We would love to become members ourselves but after much thought we have sadly decided that we live too far away to be worthwhile members. However, we hope you will allow us to visit again and stay in Daisy occasionally. Wishing you all a warm sunny summer. We will be thinking of you often and just doing that brings smiles to our faces. D&P – Kent
Thank you for a welcoming return visit to your lovely club. We had a lovely relaxing 4 days and look forward to seeing you again soon. H & H – Kent
We needed a week away doing nothing and Daisy provided this wonderful calm space for us. This is our second visit to Heritage and we felt just as welcome, and enjoyed the wonderful facilities. We are looking forward to coming back maybe not so long between this time G – Lancashire
I have recently returned home from my second visit to your club, staying in Daisy on both occasions, and would like to thank you all for a truly wonderful holiday. The club and the excellent facilities and grounds are beautifully maintained and spotlessly clean, but the jewel in the crown is the superb genuine naturist atmosphere which emanates from it, due in no small part of the members themselves, a more friendly convivial group you could not wish to meet anywhere. Hopefully see you all again soon C & S – Cheshire
We booked 'Daisy' for an overnight stay for our first visit to Heritage and were very pleasantly surprised. On arrival we were greeted and shown to the chalet, and then given a comprehensive and friendly tour of the facilities inside and out, and everyone we met welcomed us warmly. Many of the facilities had recently been upgraded and all were spotlessly clean and well maintained. The large hot tub is a big attraction and a great place to chat to fellow naturists. The heated pool, sauna and steam room are superb and available throughout the day and free to use. Daisy has everything you need to enable you to prepare meals and make you feel at home. The only thing you need to bring with you is your bedding and towels. We had a very restful night with only the local wildlife breaking the silence in this wonderful location. Our only regret is that we didn't discover Heritage before. It offers superb value whether you are camping, caravanning or staying in Daisy for a night, a few days or weeks on end! We will definitely be back and hopefully for more than a night, and very soon!
We just wanted to say a big thank you to all at Heritage for making us welcome on Tuesday and Wednesday. V & N were there to greet us and show us around. J & A in the caravan couldn't have been more welcoming and we had a long chat with Ray and a few others. The weather was awful but Daisy is just wonderful, as is the club. We look forward to another visit and hope Daisy isn't fully booked. Thanks again.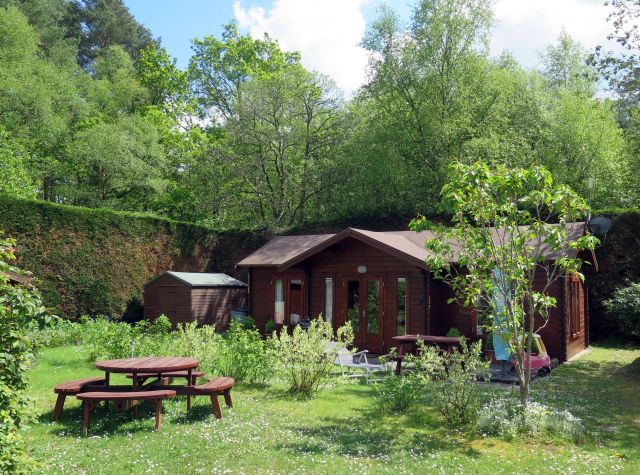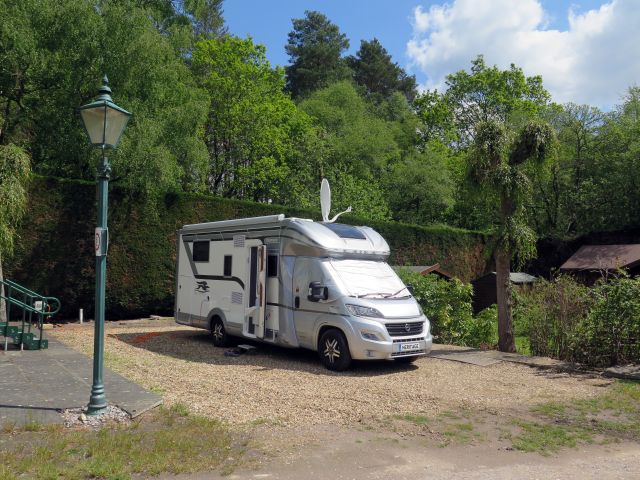 D – Berkshire
I would like to say a big thank you to all the members I spoke to during my two nights at Heritage, as I had a wonderful time during my stay. On both occasions I was able to talk to some of the long standing members and everyone made me feel very welcome and were very friendly. To be honest I was expecting that, but what really struck me was the beautiful grounds and great facilities, that can only really be appreciated when you are there. It is clear that the members all take huge pride in the club and it really is an oasis from the outside world. The huge amounts of hard work that members have put in over the years is obvious to see. I very much hope to return with my wife and 10 yr old son, whether that's to camp for a night or for a short visit. Many thanks once again and all the best for the remains! of the summer. K&A – Netherlands
We stayed at Heritage in the middle of July 2017 on our way back from touring around the south coat and Devon in our small camper van. We felt welcome and want to thank all the people we met for the warm contacts on your beautiful and well kept grounds. We're sure we will be back ! M- Cumbria
Many thanks for my brief stay with you and for the welcome you gave. You have a wonderful facility, superbly run and it was so appreciated as a breather amid the hassles and hustle of life just now. The setting that you have is great and I found the pool a huge bonus which I would say is well maintained (my eyes suffer in many pools!). It was clear that members take such an active part in the day to day running and hence maintain a quality experience for all. As for the youngsters, it was so good to see such a family atmosphere and it added to my enjoyment. With the weather being so good I can imagine many of those young people looking back on summer days when they reach adulthood with the same nostalgic fondness which we have for our youth. I was able to chill in the atmosphere you have created and I enjoyed the brief conversations I had in the short time available. Thank you again. C&S – Northampton
We have often asked the question, do nice people become naturists or do naturists become nice people? After an all too short two days at Heritage we still don't know the answer but we do know that Heritage has plenty of nice people. The facilities are absolutely brilliant and, oh so clean. We have been to a fair few naturist sites and this one? Well, we're almost reluctant to give it the praise is deserves in case it gets so popular we can't book in again! Seriously though, we can't wait to come back. Thank you so much. S & A – Lincoln
We would love to thank you all for a most enjoyable holiday spent with you all. We found you all so very friendly and co-operative. We hadn't been before but we would love to come again sometime. You were all starting your anniversary weekend and we didn't say goodbye to all we met in the 2 weeks we were with you. We do hope you all enjoyed the weekend, it looked full of entertainment. We had a good journey home. A &M – Guernsey
Wow, where do I start, well I must thank you for the friendly Meet & Greet and the tour of the site. All at Heritage made us feel so welcome. As a newby to naturism, I was very nervous and thanks to a kind member, who spoke to me for at least an hour, I was soon completely at ease. We enjoyed all the excellent facilities, the clubhouse showers were pristine, the outdoor pool a pleasant 29 degrees, the spa and sauna were brilliant. We also enjoyed petanque in the sun. We would highly recommend Heritage because of the quiet location, friendly relaxed atmosphere and I am already planning my next visit when we will be staying longer this time. J & J – Bristol
We arrived to a very helpful and warm welcome which made a relaxed start to our holiday. Our level grass pitch was delightful and our neighbouring naturists just as nice and welcoming. The grounds were exceptionally well kept, as were all the facilities. Plenty of hot water in the large shower room and everywhere being kept spotlessly clean and tidy. It is such a well thought out site with all the everyday amenities available to make it home-from-home but with so much more … The swimming pool and hot tub were just so inviting and we had a jolly good game of shuffleboard. There were so many other things to do there but we must mention how absolutely lovely all the people were. We were always made to feel welcome and part of something very special. We were due to stay for 6 nights and was told when we booked that the 7th night was free, which was an unexpected bonus but we enjoyed it so much we stayed on for a further 2 nights and became very reluctant to return home. We only wished we lived closer so we could become members and visit more often. We would definitely recommend this site and urge anyone to treat their mind, body and soul to an exceptional haven of tranquillity. D – Hertfordshire
I have just returned to the real world following a week in paradise at Heritage Club. As the gates close behind you, you can cast off all your worldly cares as well as your clothes!! The grounds are immaculate and a credit to Club members who maintain them. The facilities are first rate and plans to refurbish the Apex toilet block would be a very welcome improvement. My plans for next summer will have to take into account a return visit. A very big thank you to everyone who made my week at Heritage so very enjoyable. G&A – Essex
We really enjoyed our weekend at your lovely club. You have some excellent facilities and your members obviously work hard to maintain everything. We would certainly like to visit you again one day.
My husband, daughter and I stayed at Heritage this weekend for one nights camping, and I just wanted to say what a wonderful time we had. So many friendly people, and such a lovely site. The peace and quiet of your location was very welcome, and the site itself is lovely. A credit to your members. We are very new to naturism, and it was the first time we had taken our daughter to a naturist site. We felt completely at ease and safe. I also wanted to say how kind and considerate the children staying on site were. They played with our daughter and chatted to us, and when our daughter had fallen asleep in our tent, they made sure they lowered their voices and made less noise when passing our tent. We have every intention of returning. Thank you
Thank you and your team for a pleasant welcome and stop over with my caravan last week. I very much enjoyed the quiet peaceful environment of your club. Time and weather unfortunately did not allow the use of most of your facilities, so hopefully I can arrange another visit sometime. Thanks again. Ken.