This page will hopefully become more full over time. These are personal recommendations from our members on naturist beaches, hotels, resorts or anything else you think our members would enjoy that is naturist related. If you would like to share your experience with other members please email your review to Herinews so we can publlish it. If you have any photos to go with it, all the better.
Click on these quick-links to take you to the review of your choice..
A beautiful naturist resort, set on the Adriatic coast of Croatia is the stunning Valalta. With guaranteed hot weather and great facilities, if you are looking for a stress free and relaxing holiday then maybe Valalta could be for you. You won't find many Brits here but that's either a good thing or a bad thing depending on your thoughts on the matter.
I first went to Valalta over 8 years ago and have visited regularly, the most recent being last year (returning again in July!).

Valalta offers many forms of accommodation from bungalows to chalets and can include fully inclusive eating options. Alternatively you can turn up with your camper van or caravan or even a tent (if you like sleeping in a sauna!) and Valalta will easily accommodate you in their many acres of camping grounds some with stunning sea views, however be warned that you cannot pre book any camping pitch. I usually book my accommodation on Valaltas own website and this is available in English and is very easy to do.


Valalta sits on the Istrian peninsula North of Pula and enjoys very hot and dry weather in the summer. You may experience a stunning lightning storm and downpour that  come in over the mountains, however these generally pass by quickly (maybe this isn't the time to try out your new tin hat or to practice your tree climbing skills whilst waving a rod about).

Valalta offers many different eateries including a buffet, a grill, a pizza restaurant and a fish restaurant. The food is generally fresh and well-made and the price in all of the restaurants is reasonable and the local beer is cheaper than a coke so a good reason, if needed, to enjoy a pint or six!

Valalta also offers a good selection of shops which include a good sized supermarket, a craft shop and a fresh veg shop. One tip that I would offer is, the supermarket offers local white/ red wine and beer on tap. So I would suggest take in an empty water bottle and fill up to your hearts content!  You can then drink whilst sitting on the beach and if anyone stares at you for drinking during the day, you can always slur back at them between drunken hiccups "Its only s'water, hic" whilst smiling inanely and contently.
The facilities on offer are also excellent with a crazy golf course, a huge sea water pool complimented by a fresh water pool next door, a café serving lovely cakes, a gym plus a spa offering massages etc. Bikes can be also hired from reception.
Valalta is very much a family resort so if noisy kids are not your thing then I would suggest not going in July or August and during these months the resort can be very busy, however I have also visited in September and the resort was busy enough to have atmosphere but the little brat (sorry small children) count was considerably lower.
Obviously as naturists we all love a bit of sun and Valalata offers sunbathing areas all over the resort and includes a large grassy area next to a beautiful lagoon with trees providing shade. There are also beach areas (these are mostly stoney but all offer recliners) and of course recliners are offered around both of the pools.
I would suggest that you purchase a recliner cushion from one of the shops ( around £7) so you have something soft to lie on, just in case you do end up having to lie on the stoney beach areas and they are useful for the recliners too.
Valalta's accommodation is reasonably priced but the older bungalows can be a bit basic and some do not offer air conditioning but I stayed in a chalet last year and it was very good and offered all the mod cons including air conditioning and a great decked veranda.
The nearest town is Rovinj which is rapidly becoming a tourist hotspot as it is a beautiful and stunning town, here you will find a good selection of restaurants and the typical variety of small local shops, and you will also find a daily market selling local goods including tasty Croatian honey.
Valalta offers a payable shuttle service to Rovinj but it can get busy so best to hire a taxi as the cost is reasonable. You could walk, but by the time you have dodged the manic local drivers, the map reading carvanners on the narrow road heading to Valalta, you will have wished you paid the tenner for the luxury of an air conditioned taxi.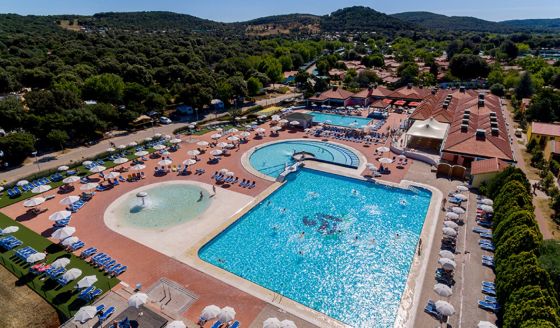 Travelling to Valalta is easy enough and you can fly into Pula airport which is a mere 45 minutes' drive from Valalta however if you wish to drive down with your caravan or camper then you might want to take the road as Ryan air won't allow caravans on as hand luggage. I usually fly into Pula airport and use a prebooked airport transfer service as the taxis can be expensive at the airport.
Cars are available to rent at Pula airport but best to pre-book in the UK. Otherwise you could end up paying the list price for the car to rent it for the week (and the extra insurance costs) will mean you having to take out a second mortgage on your home!
Naturism at Valalta is compulsory in most areas especially around the pool but this is not strictly enforced. However, on the beaches and from time to time you will see security personnel riding on bikes around the resort enforcing this rule (you can tell them apart from other staff as they generally wear shorts with a bright polo shirt and behind their dark sunglasses their eyes are continually searching for anyone wearing a cossie and they regularly stop to politely (or not so politely!) tell a naughty pant wearing guest that they need to come off).I like to call them the 'Pant Patrol'.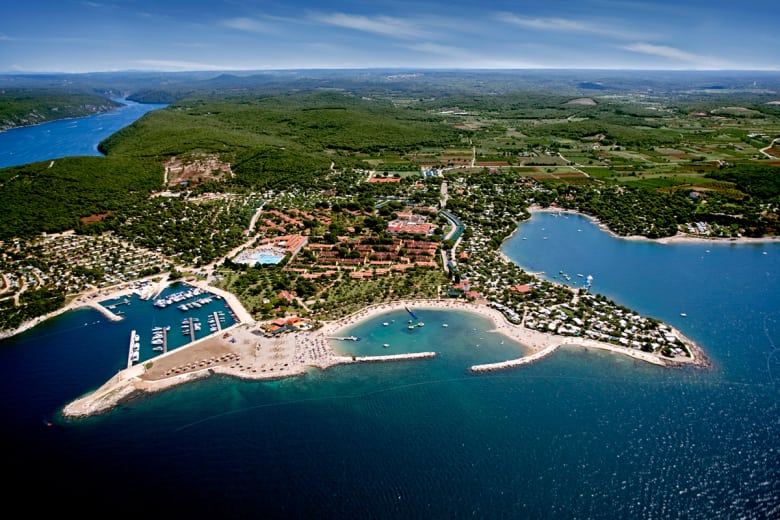 Valalta is excellent for a stress free holiday in a well maintained and polite resort. The resort has great facilities and beach/pool areas, together with good accommodation/camping areas.
There may be other naturist resorts available, but I guarantee you will not regret your break in Valalta.
Dennis D
Sandy Beach Hotel - Gran Canaria
We recently stayed at this fabulous hotel and what a warm welcome we received. A glass of chilled fizz was offered while we checked in and our bags were whisked up to our room. We were on the 8th floor which had fantastic views from the balcony.
The hotel is textile but on floors 7,8 and 9 are naturist sun terraces with sun beds, mattresses, parasols plus shower and toilet. Floors 10 &11  have private terraces for hire at €50 per day (10am-10pm)with enough sun beds for 4-6 people plus a jacuzzi. It also includes a bottle of fizz and a bowl of fruit (there is also a fridge and a phone to order bar items).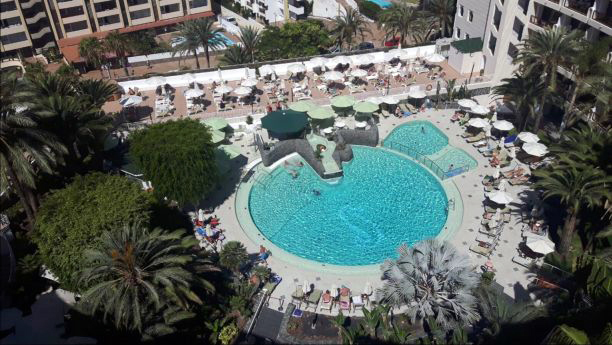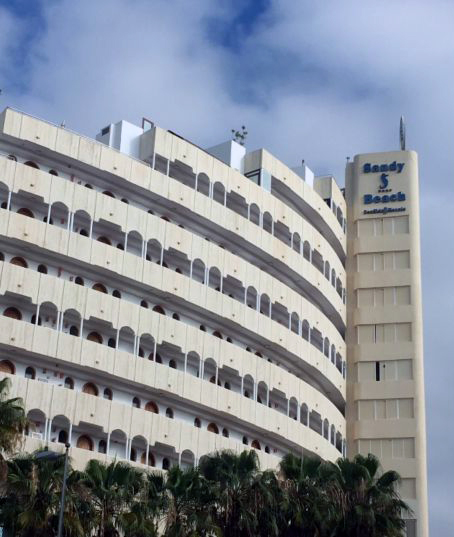 The rooms are very good, we had a walk in shower but I believe some rooms have bath/shower. An added bonus was the luxury of a dressing room! Wardrobe, shelves, mirror, power points and plenty of storage.
There was also a kettle, mugs and spoons (morning cuppa sorted) a couple bottles of water and a complimentary bottle of wine.
Fabulous food in the restaurant with chefs cooking on view.
Seating is outside or inside. Breakfast is available from 5.30am-a really nice touch for early risers (not us!) or an early flight.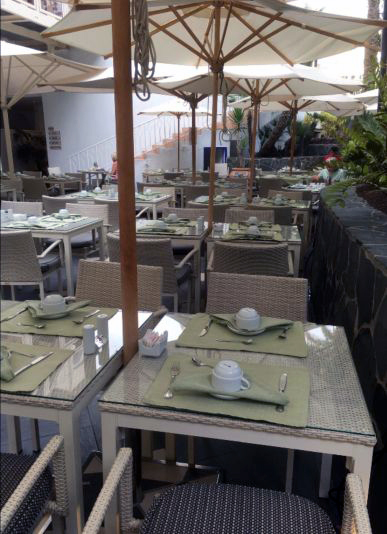 Evening entertainment was excellent usually starting and finishing with a singing duo, the main act could be flamenco dancers, circus acts, acrobats, classical singers, quiz night to name a few. Outside of the hotel is a well stocked supermarket with English newspapers and just a 5 minute stroll takes you to shops, bars, restaurants and the beach.
For the naturist beach we found it easier to take a taxi €6 to Maspalomas lighthouse and walk along the waters edge to snack bar No 4 where you can hire 2 sunbeds and a parasol for €7 per day.
Definitely worth a look on their website.
R&S